Report on Annecy Classics: 100 Years of Japanese Animation
Junko Ueno President, A-image Co., Ltd.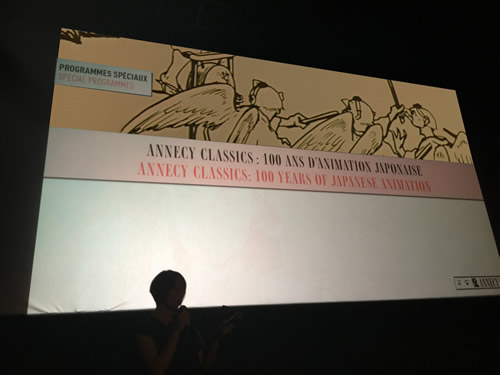 The Annecy International Animated Film Festival and Market (MIFA) took place in France from June 12 to 17, 2017.
  MIFA is famous as the world's oldest and one of the largest animation film festivals and has a massive influence over the animation industry across the world.
  The results of Japanese works were fabulous at MIFA 2017 and drew a great amount of media attention both inside and outside Japan; "Lu Over the Wall," Directed by Masaaki Yuasa, won the Cristal for a Feature award and Sunao Katabuchi's "In This Corner of the World" received a Jury Award in the Feature Film category, while "Summer's Puke is Winter's Delight," directed by Sawako Kabuki, won the Audience Award in the Graduation Film category. Outside the competition, the Tokyo Metropolitan Government hosted a session named "Tokyo Pitch" to introduce Japanese animation projects in the project market, and new films, including "GODZILLA: Planet of the Monsters," "Mazinger Z" and "BLAME!," were previewed.
  Furthermore, the "ANIME NEXT 100" project, organized by the Association of Japanese Animations to celebrate the 100th anniversary of Japanese animation in 2017, jointly hosted a screening of special programs with MIFA and the National Film Center, which is part of the National Museum of Modern Art in Tokyo.
■ "ANIME NEXT 100" trailer commemorating the 100th anniversary of Japanese animation
  The event started with a presentation of the "ANIME NEXT 100: Trailer," showing Japanese miraculous animation industry made up of 135 masterpieces representing the 100-year history of Japanese animation. Each work was met with sighs of nostalgia and cheers. This was followed by an address from the host, and as soon as the applause ceased the following programs began to be screened.
■ Program1:
"Annecy Classics: 100 Years of Japanese Animation"
  Six films from the 1920s to 1940s, selected from the collection of the National Film Center, were screened in a fully packed theater. The audience concentrated on these films so much that they were completely tranquil when they watched silent films. When someone's mobile phone rang twice during "Manga Kobutori/The Lump," many stern glares and sighs were directed towards that person. Then they settled back into total silence, and the next moment, burst out into laughter. Each film and the audience came together as one, which created a special atmosphere and just kept me amazed throughout. The reactions to, and respect for, all aspects of these films, like artistic visual quality, humor, tempo and structure, which the audience showed were simply fantastic; they nodded, showed admiration, and erupted with laughter.
Films in "100 Years of Japanese Animation"
"Manga Kobutori/The Lump" (Yasuji Murata) 1929/Silent
"Haru no uta/Spring Song" (Noburo Ofuji) 1931/Silent
"Ponsuke no haru/Spring Comes to Ponsuke" (Ikuo Oishi) 1934/Talkie
"Propagate" (Shigeji Ogino) 1935/Silent
"Manga Shin Sarukanigassen/Monkey and Crabs" (Kenzo Masaoka) 1939/Silent
"Arichan/Arichan the Ant" (Mitsuyo Seo) 1941/Talkie
■ Program 2: "AKIRA" (Katsuhiro Otomo) 1988
■ Program 3: "
Uchu Senkan Yamato: Fukkatsu Hen/ Space Battleship Yamato: Resurrection
" (Yoshinobu Nishizaki) 2009
Please tell us what you think about this website by filling out a short questionnaire.