Noburo Ofuji Memorial Museum
Here you can find old documents and production materials preserved by National Film Center (NFC) formaly owned by animation artist Noburo Ofuji and follow the artist's footsteps. The structure conforms to the NFC's exhibition "Noburo Ofuji: Pioneer of Japanese Animation" held in 2010.

Noburo Ofuji's life from birth to death has been put in chronological order alongside his works. After producing animations using cutouts from Japanese paper with colored patterns (chiyogami), Ofuji presented animation works using silhouettes and colored cellophane, for which he won many awards.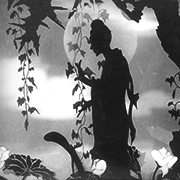 Works created by Noburo Ofuji and the background behind each one have been summarized in chronological order. In addition, the characters and works that formed the basis of films using chiyogami cutouts are introduced along with the equipment and tools that were regularly used in Ofuji's studio.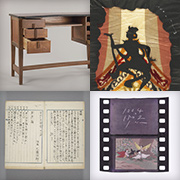 Brief Biography of Noburo Ofuji
Ofuji was the seventh of eight children born to a family who ran a phonograph recording studio in Asakusa, Tokyo. His given name was Nobushichiro. Initially taught by Junichi Kouchi, one of the founders of Japanese animation, Ofuji made his debut with Burglars of "Baghdad" Castle (馬具田城の盗賊) using cutouts from Edo chiyogami (Japanese paper with colored patterns) in 1926. This Chiyogami Eiga received a lot of attention and the Jiyu Eiga Kenkyusho, established by Ofuji when he was 21 years old, evolved into Chiyogami Eigasha in 1927. He also produced cel animation works and formed the foundation of Japanese animation along with Yasuji Murata and Sanae (Zenjiro) Yamamoto. He was eventually drawn to silhouette film techniques and developed his own unique style in the postwar years using silhouettes and colored cellophane. In particular, his works Whale (くじら, 1952) and The Phantom Ship (幽霊船, 1956) were highly acclaimed at international film festivals, leading Japanese art animation to be widely recognized abroad. In an age when the animation industry was becoming increasingly commercialized into organizational entities and enterprises, Ofuji continued his individual production with the dedicated help of his elder sister, Yae. However, he passed away at the age of 61 before his full-length films The Tale of the Bamboo Cutter (竹取物語) and Gulliver's Travels (ガリバー旅行記) were completed.
After his death, Ofuji's belongings were stored at the Nihon University College of Art. However, when NFC was opened in 1970, they were donated the following year by the Nihon University College of Art, the Japan Association of Audiovisual Producers, Inc., and his elder sister, Yae.
Please tell us what you think about this website by filling out a short questionnaire.