17th Japanese Film Festival Nippon Connection
Screening Report on Films Presented at the 100th Anniversary of Japanese Animation
Megumi Hayakawa, Nippon Connection Programmer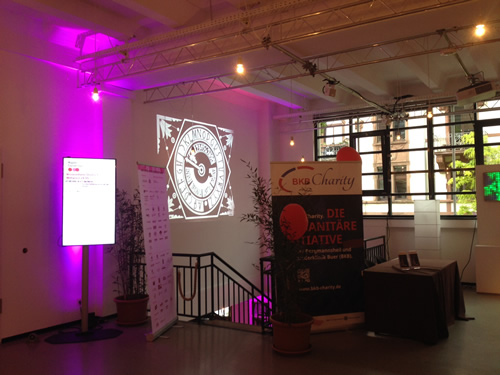 The 17th Japanese Film Festival Nippon Connection was held in Frankfurt, Germany, on May 23–28, 2017. This is currently the world's largest Japanese film festival, where approximately 100 Japanese films, mostly new ones, are screened each year. During the festival, a wide range of genres of Japanese movies produced in various periods are screened, including not only mainstream movies but also independently produced films, experimental films, as well as important works in the history of Japanese movies. Workshops, lectures and concerts are also held to introduce Japanese culture. Consequently, in addition to film fans and film-related persons, many people who are interested in Japanese culture also visit the festival venue. The film festival, where a majority of the approximately 16,000 visitors are Germans, is a rare cultural event that allows people to concentrate on watching Japanese movies while also experiencing Japanese culture in Frankfurt.
  An independent section is created for animated films each year to present outstanding animation to the audience. Reflecting a strong interest in Japanese animation in overseas markets, animated films are very popular at this film festival every year. In particular, 2017 marks the 100th anniversary of Japanese animation. Accordingly, with a view to introducing the long history and achievements of animation production in Japan, we aimed to screen not only contemporary animation but also outstanding animation films produced during the early period that are included in the Japanese Animated Film Classics. To this end, placing high priority on inviting as many people as possible to repeatedly see the films, we presented films through display screening in an open space usually reserved for video art displays instead of screening then in a theater with admission fees. In consideration of the limited budget for the film festival managed by a non-profit organization and the restrictions of loop screening, we presented four films, including slightly shorter ones, that last a total of approximately 30 minutes. To present a diversity of film genres and animation techniques to a wide range of age groups through the minimal number of works, we selected the following animated films as being representative of different genres and can be enjoyed even without a knowledge of Japanese literature:
The Cat Purr Dance, Yasuji Murata (1932)
A Day after a Hundred Years, Shigeji Ogino (1933)
A Story of Tobacco, Noburo Ofuji (1926)
Arichan the Ant, Mitsuyo Seo (1941)
  The open space on the second floor of the venue, where we screened the films, was packed with visitors, especially during breaks and event waiting times. We succeeded in attracting the attention of many visitors, as planned. We were impressed to see so many people stopping to watch the films intently and children realizing with joy the presence of animation during breaks. Many of the audience seemed to be attracted to the films' originality, creativity and playful spirit that remain valid to this day. Some of the works surprised the audience by their unrestrained, even anarchic, imagination that subverts the commonly held image of animation as being merely tales for children. We believe we were able to show the historical depth of Japanese animation as well as their diverse allure through this display screening at the Japan Film Festival.
Please tell us what you think about this website by filling out a short questionnaire.