Experts' choice
Various experts introduce their own selection of the works on JAFC.
Furukawa Taku(Illustrator, Animation artist)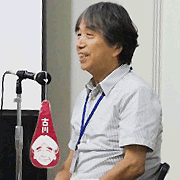 Born in Mie in 1941. After working at TCJ and the Kuri Experimental Animation Workshop, Furukawa became active as a freelance illustrator and animation writer. He was awarded the Special Judge's Award at the 1975 Annecy International Animation Film Festival, the Bungei Shunju Animation Award in 1976, and a Medal with Purple Ribbon in 2004.
Furukawa Taku's choice
Choice reason of the work

This is one of the most amusing movies I have ever seen. It is a truly heart-warming movie that makes you smile. This talkie film with music was created at nearly the same time as Ugoki-e Kori no Tatehiki, an excellent short animated film that made us realize with surprise that there was another Walt Disney in Japan. It provides us with a very pleasant sense of relief. Its spirit has been passed down through generations to the animated films made by Norio Hikone, the No. 1 musical animation writer of G9+1, a group of the world's oldest animation writers.

Choice reason of the work

Noburo Ofuji adopted new animation techniques one after another, including cutout animation as well as cel and cutout (silhouette), and released Princess Katsura, the first short color movie, in 1937. I think he was a freelance animation writer who loved to experiment. Ofuji, who liked the elegant styles used in kabuki, was probably very happy when he obtained Kodachrome films. Except that he treated two-hole tap animation cels rather carelessly, his work was no different from what we remember doing in our studio that we started 30 years after Ofuji. Shelves where cels are stored, light stands, and sun visors used during work, were the same as they are now. His direction technique that shows the progress of making animaited movie by using stop motion is excellent.

Choice reason of the work

The simple drawings used in this film are all the more convincing for their simplicity. I was born in 1941, when the Pacific War started. This film was created in Japan eight years before I was born. We may be able to get a glimpse of today's world in the margins of the film. What becomes of Maru and Kaku, who turn around and disappear at the end of the film? Walt Disney once made a movie entitled Victory through Air Power, but I would never want to make animated films like this.
Please tell us what you think about this website by filling out a short questionnaire.