Experts' choice
Various experts introduce their own selection of the works on JAFC.
Ono Kosei(Film and comic critic)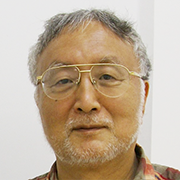 Film and comic critic, Visiting Professor at Tokyo Polytechnic University Faculty of Arts, and Chairman of the Japan Society for Studies in Cartoons and Comics. His books include Animation Writers around the World (Jimbun Shoin, 2016) and Pioneers of Long Comics (Iwanami Shoten, 2017).
Ono Kosei's choice
selection of the works 1Murata Yasuji『Two Worlds』(1929)

Choice reason of the work

An extremely well-crafted cutout animation movie created from Aesop's fable, which Walt Disney subsequently made into a Silly Symphony-series, short, color animated film. Not only the outstanding animation techniques, the consummate drawing skills that capture the life scenes of the Japanese people in the old days, along with nature in different seasons, are truly amazing. A dragonfly perched on a sunflower, summer clouds, ants walking in kimono, leafless trees in the winter, children playing in the home, a peaceful couple, the quiet life of an old lady—we are overwhelmed by the development of the story that makes us feel the presence of a Japanese family at a certain time in history as if we were able to hear their voices, much more than by the proverb "Summer fun leads to a winter of misery." It is a human drama acted out by personified insects, which evokes a sense of nostalgia for home.

Choice reason of the work

The six films by Shigeji Ogino in this collection are still of contemporary significance as a set of kaleidoscopic images reminiscent of Oskar Fischinger and Norman McLaren. The reason why I am attracted to these early works of Ogino despite their chaotic content is because the humorous image of a color machine that instantly changes the color of clothes, for example, stimulates my interest in science fiction. The Future Landscape of Tokyo gives the impression that it may have been influenced by Just Imagine, an American movie released in Japan in 1931. Travel to Paradise, in which the protagonist travels beyond the moon and outstrips a comet to fly to Mars and beyond, leads me to read too much into the film, thinking it may have the same speculative properties as 2001: A Space Odyssey.

Choice reason of the work

This black-and-white short movie, with its excellent poetry, humor, and wonderful music, enables us to experience a wide variety of colors comparable to Walt Disney's Silly Symphony color movies. Some insects have hands like human children's hands and even remind us of Mr. Bug Goes to Town (1941), a long movie created by the Fleischer brothers. Descriptions of nature, such as cosmos flowers, are detailed. The scene in which dandelion fluff floats in the air is also used in Momotaro, Sacred Sailors (1945), a long animated film made by Seo. I was told that there is also a dandelion fluff scene in one of the animated films created by cartoonists for the 2020 Tokyo Paralympic Games. Also, the sense of speed created by Arichan as a whole is excellent.
Please tell us what you think about this website by filling out a short questionnaire.