Experts' choice
Various experts introduce their own selection of the works on JAFC.
Tochigi Akira(Curator at National Film Center, the National Museum of Modern Art, Tokyo)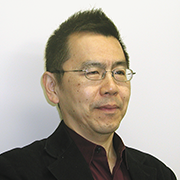 Curator at National Film Center, the National Museum of Modern Art, Tokyo. After working as the editor of the monthly journal Image Forum, a freelance writer, and a translator, Tochigi started collecting, preserving, restoring, and offering access to, films at the National Film Center in 2003. He has held his current position since April this year.
Tochigi Akira's choice
selection of the works 1Murata Yasuji『Two Worlds』(1929)

Choice reason of the work

An animated film created by Yasuji Murata, the master of cutout animation, who was commissioned by the Ministry of Education to make Aesop's story The Ant and the Grasshopper into a movie. Murata, who was working at Yokohama Cinema Shokai at the time, is said to have neatly cut original drawings out of Kent paper with scissors and patiently photographed the drawings, frame by frame, by using an automated camera stand that had recently been installed. Aesop's fable is transformed into an apocalyptic science fiction movie using such delicate lines and movements that it is difficult to believe they were created by moving paper drawings. The original prints were old government-issued combustible films. These films, which were dyed in brilliant colors, were discovered at Iwate University. Imagining that people were enjoying cartoons on such beautiful films in those days fills us with envy.

Choice reason of the work

Shigeji Ogino was a movie writer who was born in a family that sold charcoal in Sugamo, Tokyo. He learned to make movies on his own and began making movies in the late 1920s. Ogino is one of Japan's amateur movie pioneers, and he made more than 400 movies in his long career of over 50 years. This work is an abstract animation presented under the pretentious title An Expression by Ogino, who was inspired by the avant-garde art of his time. The film provides a mysterious sense of elation created by simplifying the basic elements of images (shape, movement, and color) to the ultimate level. Can you follow the colors and light that dance wildly on the film shot to reproduce colors using only two primary colors?

Choice reason of the work

Enraged by the invasion by whales, a school of fish destroy their enemies by using wisdom and ingenuity. However, while celebrating the victory, the fish are all caught in a fishing net. This allegory about the current situation and the lesson that teaches us to remain vigilant even after a victory are very appropriate for a movie produced by the Ministry of Education. However, who would think of fish swimming only with their heads, tails, and bones after being eaten by whales? The film is studded with gags and jokes for adults. Unfortunately, Hakuzan Kimura, who worked energetically as a second-generation animator like Sanae Yamamoto and Noburo Ofuji, has almost been forgotten today. But rest assured that he will come back again in the near future!
Please tell us what you think about this website by filling out a short questionnaire.