Experts' choice
Various experts introduce their own selection of the works on JAFC.
Yamamura Koji(Animation artist)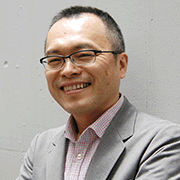 Born in 1964. Yamamura's animated film Mt. Head(2002); was awarded six Grand Prix awards in major animation film festivals and was nominated for the 75th Academy Award in the short animated film category. Koji Yamamura is a member of the Academy of Motion Picture Arts and Sciences and Professor at Tokyo University of the Arts.
Yamamura Koji's choice
Choice reason of the work

In the bitter winter, when everything is covered with snow, the raccoon father and son have difficulty finding food. However, no one feels sad, and as happy episodes unfold, spring eventually comes along. The story takes unexpected turns and develops humorously, with nostalgic music in the background and flexible and comical movements that give the impression of influence by American cartoons. We do not know for sure whether the author intended to show that Ponsuke is seeing an illusion by whitening Ponsuke's color as the plucked bird sneezes. At any rate, it is an attempt seldom seen elsewhere. Characters that remind us of contemporary Japanese design, such as folk art masks found in the raccoons' home and singing flowers, also appear as crazy supporting figures that add charm to the film. It is a pity that Ikuo Oishi, an artist with great talent, died so young.

Choice reason of the work

Travel to the future of 2032 created by Shigeji Ogino by using his free imagination. It is probably one of the earliest science fiction animated films in the world. Before Karel Zeman in the 1950s, most animated films were fairy tales or stories that unfold either at present or in an unidentified time. In this film, in addition to the cutout animation technique, Ogino uses other techniques as well, including combining cutout animation and real filming and also sand animation in the explosion scene. The magic TV, which shows both the past and the future, reminds us of the Internet used in contemporary society, while the magnetically operated train is similar to a linear motor car. In 1933, Ogino had already predicted the occurrence of the Second World War. This film shows his complex thoughts about the future, including his pessimistic outlook that he would die in the World War of 1942, as well as his hopes for technology that could bring human spirits back to life 100 years later.

Choice reason of the work

This film was created by Noburo Ofuji by combining real filming and cutout animation. It reminds us of the Fleischer brothers' Out of the Inkwell series (from 1919), which were created approximately five years earlier and also combined live-action movies and drawings. However, this is the oldest composite movie created in Japan. It was created in the same year as Burglars of "Baghdad" Castle, Ofuji's first movie screened in a theater. However, some historians estimate that the film was created in 1924. Therefore, it also stimulates our interest as one of his earliest works. A young girl with Japanese-style hair appears in live action, along with a little cutout animated man, sometimes combined with still photos, who starts talking about the origin of tobacco. One of the characters in the Japanese title of the film is designed to be smaller than the other characters to make this film look like a parody of Little Women. The discovery of the second half of this film would make all of us happy.
Please tell us what you think about this website by filling out a short questionnaire.