Mitsuyo Seo
| | |
| --- | --- |
| Author [First name / Last name] | Mitsuyo Seo |
| Japanese (Katakana) | セオ ミツヨ |
| Japanese (Kanji) | 瀬尾光世 |
| Born | Sep 26, 1911 |
| Died | Aug 24, 2010 |
| Introduction | Born 1911, in Himeji. Seo worked on the production of Japan's first talkie animation under Kenzo Masaoka. He also created many works commissioned by government offices and is known for the Ministry of Education music film Arichan the Ant (アリチャン, 1941) and the feature length animation for the Navy Ministry titled Momotaro's Sea Eagles (桃太郎の海鷲, 1943). |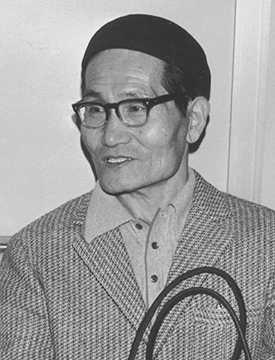 Biography
Born on September 26, 1911 in Himeji, Hyogo and died on August 24, 2010. His given name was Tokuichi. His pseudonym was Taro (Mitsuo) Seo.

Seo moved to Tokyo to study art, and after taking on part-time jobs such as creating line drawings at the Proletarian Film League of Japan, he visited Kenzo Masaoka in Kyoto and became his apprentice. He participated as a drawing artist in the creation of Japan's first talkie animation The World of Power and Women (力と女の世の中, 1933) produced at the Masaoka Eiga Bijutsu Kenkyusho. After studying new techniques; cel animation and talkies under Masaoka, Seo returned to Tokyo and established the Seo Hassei Mangaeiga Kenkyusho. As a studio exclusively for Nihon Manga Film Kenkyusho, the company successively produced and released the popular series, Sankichi the Monkey (お猿の三吉) and Norakuro, in addition to advertisements such as the product promotion animation for "Wakamoto." The private studio Seo opened in 1938 in Shinjuku called Seo Production was absorbed two years later by Geijutsu Eigasha and Seo was put in charge of drawing and directing commissions from the Ministry of Education such as Arichan the Ant (アリチャン, 1941). The following film Momotaro's Sea Eagles (桃太郎の海鷲, 1943), commissioned by the Navy Ministry, was Japan's first full-length animation and it is said that Seo all but single-handedly drew its 150,000 frames. Seo left Geijutsu Eigasha before its merger and joined Shochiku Doga Kenkyusho, where Masaoka was. There, he completed another large-scale feature commissioned by the Navy Ministry titled Momotaro, Sacred Sailors (桃太郎海の神兵, 1945 released). After WW2, Seo departed from Shochiku, where jobs were scarce, and transferred to Nihon Manga Eigasha shortly after it was established. Despite a number of interruptions, he completed the production of The King's Tail (王様のしっぽ) in 1949, but the company failed to cover costs and went bankrupt. Seo then retired from the animation industry to publish picture books.
Works on this site
Attractive motions and cute characters
Please tell us what you think about this website by filling out a short questionnaire.