Kenzo Masaoka
| | |
| --- | --- |
| Author [First name / Last name] | Kenzo Masaoka |
| Japanese (Katakana) | マサオカ ケンゾウ |
| Japanese (Kanji) | 政岡憲三 |
| Born | Oct 5, 1898 |
| Died | Nov 23, 1988 |
| Introduction | Born 1898, in Osaka. Masaoka moved to Tokyo with the aim of becoming an artist, but returned to Kyoto and worked on films. He demonstrated his unique artistic expression, bringing many new possibilities to the world of animation from different angles, such as cel animations, talkies, and an exclusive orchestra, which Masaoka himself joined as a musician. |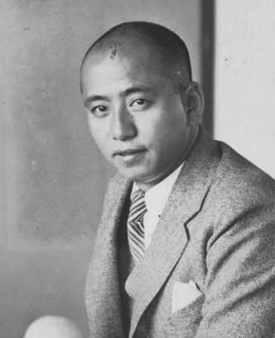 Biography
Born on October 5, 1898 in Osaka, and died on November 23, 1988.

Masaoka studied Japanese-style painting at Kyoto City University of Arts and moved to Tokyo to practice oil painting. However, he returned to Kyoto and joined the production of the film Sun (日輪) under Shozo Makino as the costume designer. In 1927, Masaoka established his own office, Nonbei Production, in Shimogamo, Kyoto and produced the children's film Shell Palace (貝の宮殿, 1927). He also worked as an actor under the name Rurinosuke Segawa. In 1929, he became an employee at Nikkatsu Uzumasa Studio and engaged in animation productions, in which he had been interested for some time. His debut work, Nonsense Story Vol. 1, The Monkey Island (難船ス物語第壱篇 猿ヶ島, 1931 released) received positive reviews. In 1932, Masaoka established Masaoka Eiga Seisakusho in Kyoto. Commissioned by Shiro Kido, the head of Shochiku Kamata Studio, Masaoka completed Japan's first talkie animation The World of Power and Women (力と女の世の中, 1933). In December of the same year, he changed the name of his company to Masaoka Eiga Bijutsu Kenkyusho and constructed a modern two-story building equipped with a recording studio. He attempted to improve animation quality and artistic expression through the implementation of cel animation, which was still expensive at the time. However, he was forced to let go of the studio when it became unable to pay for productions. Masaoka then joined the Shochiku Doga Kenkyusho in 1941. There he unveiled the work for which he is best known The Spider and the Tulip (くもとちゅうりっぷ, 1943). After WW2, he joined the Shin Nihon Dogasha (later Nihon Mangaeiga Corp.) with Sanae Yamamoto, however he left after creating just one unreleased work Sakura (桜, 1946). He then established the Nihon Doga Corp. (later Nichido) with Yamamoto. They released the Tora-chan (すて猫とらちゃん) series (1947-50), but financial difficulties continued, leading Masaoka to shift his activities to creating cartoons and picture books.
Works on this site
The harmony between sophisticated visuals and elegant movements
References (Japanese Only)
萩原由加里『政岡憲三とその時代 「日本アニメーションの父」の戦前と戦後』青弓社、2015年3月27日。NFC図書:請求記号Z-497。
Please tell us what you think about this website by filling out a short questionnaire.