Sanae Yamamoto
| | |
| --- | --- |
| Author [First name / Last name] | Sanae Yamamoto |
| Japanese (Katakana) | ヤマモト サナエ |
| Japanese (Kanji) | 山本早苗 |
| Born | Feb 6, 1898 |
| Died | Feb 8, 1981 |
| Introduction | Born in 1898, Chiba. Yamamoto began producing animations after being invited by Seitaro Kitayama. Before the war, he created many works commissioned by government offices. After the war, as many artists of his generation left animation, Yamamoto spent his life supporting the industry with Toei Doga. |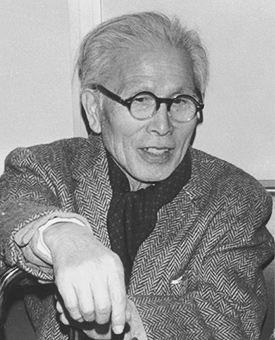 Biography
Born on February 6, 1898 in Chiba and died on February 8, 1981.

Although his given name was Zenjiro Toda, he later took his wife's surname and became Zenjiro Yamamoto. Sanae was his pseudonym. He was sent to become an apprentice to continue his family's merchant business, however, unable to give up his dream of becoming an artist, Yamamoto ran away from home time and again. After studying at Kawabata Art School and the Yokohama branch of the Tatsumi Art Association, he was scouted in 1917 by Seitaro Kitayama, who was an instructor, and began producing animations. Yamamoto joined Kitayama Manga Seisakusho, established by Kitayama after he left Nikkatsu Mukojima Studio in 1921. There, Yamamoto took part in drawing and directing The Hare and the Tortoise (1924). In 1925, he established Yamamoto Mangaeiga Seisakusho, and from Ubasuteyama (姥捨山, 1925), most of his works were commissions from government offices. Soon after WW2, Yamamoto gathered over 100 people involved in animation production throughout the Kanto region and established Shin Nihon Dogasha. The company then changed its name to Nihon Mangaeiga Corp. and produced Kenzo Masaoka's Sakura (桜, 1946), though the film was never released. The next year, Yamamoto and Masaoka left the company together and established Nihon Doga Corp. (which eventually acquired Toho Zukai Eiga and changed its name to Nichido). Nichido eventually became a subsidiary of Toei, and started anew as Toei Doga (currently Toei Animation) in August 1956. Even after Yamamoto left Toei Doga in 1964 and established Yamamoto Animation Kenkyusho (later Children's Corner), he produced works for Toei Doga as a subcontractor and continued to nurture the next generation of artists in the animation industry.
References (Japanese Only)
山本早苗『漫画映画と共に:故山本早苗氏自筆自伝より』宮本一子、1982年3月15日。NFC図書:請求記号D-227、TS-227。
Please tell us what you think about this website by filling out a short questionnaire.